Flue Duct Expansion Joints
Flue Duct Expansion Joints For Industrial Ductwork Applications
A ducting system can be extensive, and depending on what materials are flowing through, having the right flue duct expansion joint is necessary to prevent leakage, lessen noise and vibrations, maintain operation and safety stands, and reduce the chance of failure. Designed to your specifications and application requirements, Holz manufactures high quality flue duct expansion joints for industrial ductwork systems.
By using a Holz flue duct expansion joint, you can…
Eliminate corner failures
Increase engineering safety
Reduce costs by eliminating expensive gaskets
Lengthen cycle life
Absorb sound and reduce vibration
Lessen heavy duct work load
Improve movability
Repel wear and tear from harsh chemical and gas
Scrubber
Precipitator
Baghouse
Stack hot air or flue gas ducts
Steam boiler systems
Gas turbine exhausts
Industrial furnace & chimney construction
Refuse incinerators
Ventilation and aeration systems
Emissions control
Paint and powder coating booths
Welding booths
Environmental systems
HVAC and air handling systems
Furnace / Boiler exhaust
Fan connectors
Flex element for FRP piping
FGD systems
We can help meet your flue duct expansion joint needs. Holz manufactures the widest variety of flue duct expansion joints available in the market.
Standard Movement Flue Duct Expansion Joint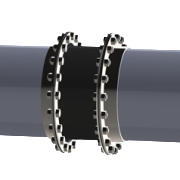 Designed for standard movements typical ducting movements and application
Perfect for applications requiring maximum noise reduction, sound absorption, and vibration control
Superior protection to duct systems, flanges, and equipment housings
Maximum Movement Flue Duct Expansion Joint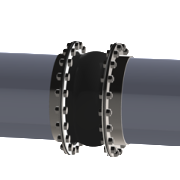 Designed for maximum movement with superior axial and lateral movement capabilities without pre-compression or pre-extension
Compound molded corners ensure that the reinforcing material is not pre-stressed at the time of installation
Workhorse style designed for scrubber, precipitator, baghouse, and stack flue gas ducts
Ideal for FRP piping
Ultra-High Movement Flue Duct Expansion Joint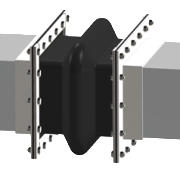 Designed for ultra-high movement applications
Perfect for positive pressure clean air systems with ultra-high axial compression and extension
Constructed with a large, high, "V" – shaped arch allowing for the industry's highest axial movement while exerting very low forces on the ductwork, duct flanges and equipment
Flows designed for ducting and fan applications
Related Application Data Sheets
Want more information on expansion joints?