Saving Time and Money with a Fully Molded Flue Duct

Application:
Refinery air supply line.
Problem:
A refinery reached out to a Holz Distributor to discuss concerns they had about one of their existing expansion joints. The joint looked like it was failing and they wanted to know if there was a better style of connected that they could use to prevent an unexpected blowout.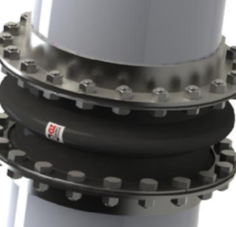 Solution:
A Holz specialist reviewed drawing and photos of the application and determined the existing joint was a composite style that was not designed adequately for the system. The joint was installed with more material than necessary to be effective. The excess material caused overlapping of the joint and created weak spots due to abrasion fatigue. Our specialist recommended a 952 "Arch Style" ultra-high movement expansion joint as an engineered solution that would eliminate the excess material and address offsets in the piping. This style would also save the refinery time and money with no need to re-align the system components for installation. The ultra-high movement capability of the fully molded 952 "Arch Style" expansion joint with fabric reinforcement helped eliminate the plant's worry of downtime while providing long system life.
To contact a Holz Rubber specialist, click here.