Hand-Built Pressure Piping Expansion Joint with Tire Industry Technology

The Series 320 Pressure Piping Expansion Joint uses the technology of the tire industry to the hand-built pressure piping expansion joint. The use of polyester tire cord and the modified arch construction provides greater overall performance than previous designs.
Series 320 Pressure Piping Expansion Joint
Recommended for high flow velocity and high abrasion conditions
Increased strength, flexibility, and safety compared to traditional hand-built expansion joints
Superior movement capabilities solve piping movement challenges without having to use long and expensive multi-arch products
Available in a filled or double filled arch which eliminates flow turbulence and the collection of suspended solids
Precise guidelines for pressure/vacuum capabilities at various temperatures
Axial extensions, axial compression, lateral deflection, and angular movement
Available sizes – 10 ID to 96" ID
High pressure versions of the 320 (320HP, 320XHP, 320XHPMOD) are available for extreme pressure/full vacuum applications.
A low pressure version of the 320 (320LP) is available as an economical alternative to the 320 for low pressure/limited vacuum applications.
Ideal for Application Conditions:
Chemical
Petroleum
Sewage
Sludge
Slurry
Waste water
Other gaseous and abrasive media
The superior performance offered by the Series 320 Expansion Joint is the result of a three year program which thoroughly re-engineered the hand-built expansion joint. By studying the relationship between the pressure capability of the expansion joint and the media temperature, along with the concurrent movements and spring rates, Holz created a superior product with application guidelines.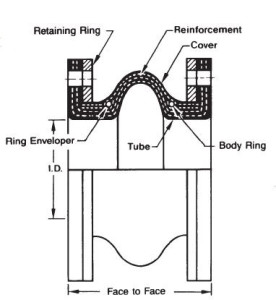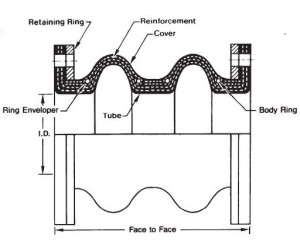 Tube:
The Series 320 Expansion Joint has been designed with an extra thick elastomeric tube to yield superior performance in harsh applications. The tube elastomer can be compounded for a variety of service conditions such as chemical, petroleum, sewage, and other gaseous and abrasive media.
Body:
The polyester / elastomer reinforcement plies are bonded completely within the tube and cover materials for maximum joint integrity. High tensile steel body rings are held in place by exclusive ring enveloper system.
Cover:
The cover elastomer protects the body materials from external conditions. A wide variety of cover elastomers are available to suit most applications.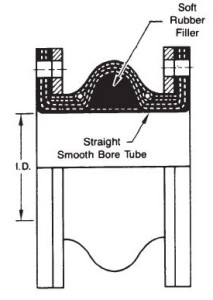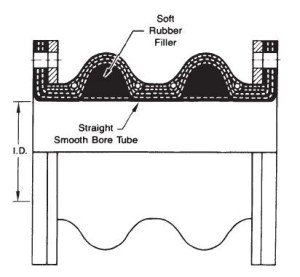 Filled arch joints are recommended for systems where high flow velocity and high abrasion conditions exist. The filled arches are built to eliminate flow turbulence and collection of suspended solids. These joints are idea for sewage, sludge, slurry, waste water and process lines.
Specifications
Click image to enlarge or download printable Series 320 Piping Expansion Joint Specification sheet below.